If Lyme disease is not diagnosed and treated early, the spirochetes can spread and may go into hiding in different parts of the body. Weeks, months or even years later, patients may develop problems with the brain and nervous system, muscles and joints, heart and circulation, digestion, reproductive system, and skin. Symptoms may disappear even without treatment and different symptoms may appear at different times.
Untreated or undertreated Lyme can cause some people to develop severe symptoms that are hard to resolve. This condition may be referred to as post-treatment Lyme disease (PTLD) or chronic Lyme disease (CLD). We don't know exactly how many people who are diagnosed and treated remain ill. CDC estimates range from 10-20%. A recent study of early Lyme disease treated at EM rash reported 36% remain ill. (Aucott 2013)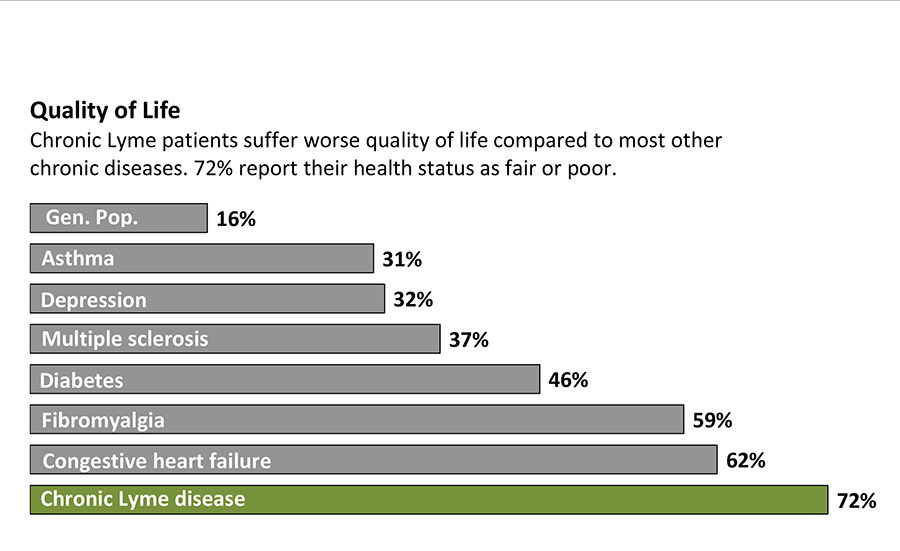 Many of the symptoms associated with Lyme disease are common in other diseases. The CDC surveillance criteria for confirmed cases specifically exclude most of the symptoms that patients report, including fatigue, sleep impairment, joint pain, muscle aches, other pain, depression, cognitive impairment, neuropathy, and headaches. However, these common symptoms can be severe and may seriously affect quality of life.
In LDo's chronic Lyme survey, over 75% of patients reported at least one symptom as severe or very severe and 63% reported two or more such symptoms.
The chart below shows the severity of ten common chronic Lyme symptoms.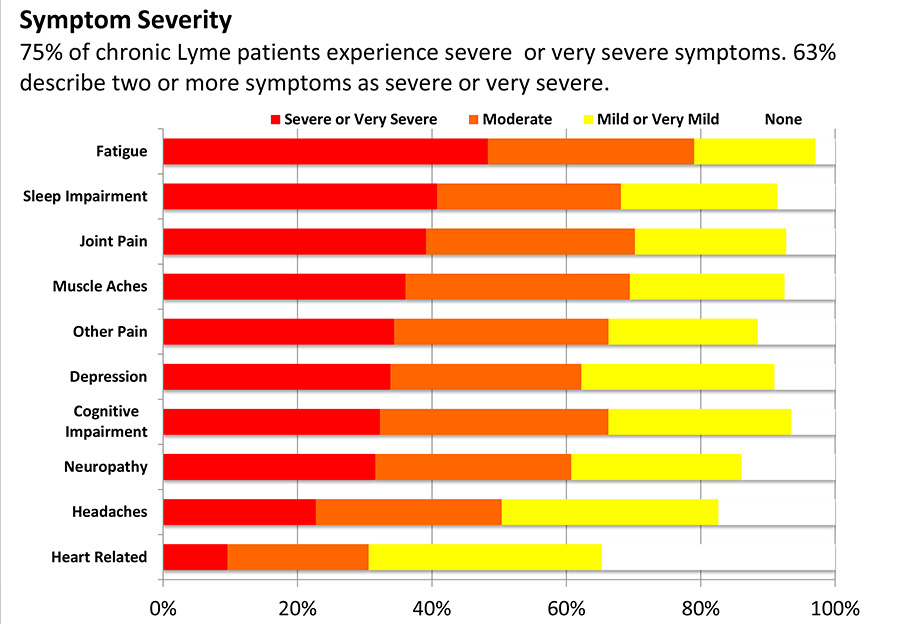 The survey also found that patients with chronic Lyme disease have high disability and unemployment rates. Over 40% of patients with chronic Lyme disease reported that they currently are unable to work because of Lyme disease and 24% report that they have received disability at some point in their illness.